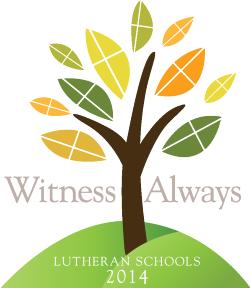 "The liberal arts can equip a child for effective service in the world; catechesis can equip a child for everlasting life. The Lutheran schools would equip citizens for both of God's Kingdoms."

- Dr. Gene Veith in his forward to Lutheran Education: From Wittenberg to the Future

by Dr. Thomas Korcok
It's a blessing to teach in a Lutheran high school. Where else can you discuss the cleansing blood of Christ while teaching

Macbeth? Where else can you explain the efficacy of prayer while discussing

The Adventures of Huckleberry Finn? When Jack and Ralph head back to the world they left are they really saved?
Hmmmm, that sounds like Mark 7:20-23 should drive the discussion of man's nature...
Mark 7:20-23 And he said, "What comes out of a person is what defiles him. For from within, out of the heart of man, come evil thoughts, sexual immorality, theft, murder, adultery, coveting, wickedness, deceit, sensuality, envy, slander, pride, foolishness. All these evil things come from within, and they defile a person."
followed by the comforting message of

Romans 5:8

"But God shows his love for us in that while we were still sinners, Christ died for us."
Who shall separate us from the love of Christ? Shall tribulation, or distress, or persecution, or famine, or nakedness, or danger, or sword? As it is written, "For your sake we are being killed all the day long; we are regarded as sheep to be slaughtered." No, in all these things we are more than conquerors through him who loved us. For I am sure that neither death nor life, nor angels nor rulers, nor things present nor things to come, nor powers, nor height nor depth, nor anything else in all creation, will be able to separate us from the love of God in Christ Jesus our Lord.